정밀 액체 온도 제어용 침적식 쿨런트 CIC Series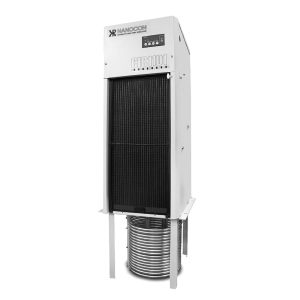 CIC시리즈는 침적식 열교환 방식을 적용한 쿨런트 쿨러로 교환 효율을 높이며 쿨런트 온도를 제어하여, 가공 정밀도 향상에 기여합니다 보급형 쿨런트 쿨러인 CIC는 SUS(Stainless steel)코일을 채용 하여 녹 형성을 방지 하였으며. 경 부하 영역에서 고 부 하까지 넓은 범위의 정밀 액체 온도 제어를 실현 합니다.
또한 고객의 요구에 따라 Tank용량변견 기체동조센터 및 Heater등 다양한 맞춤형 설계가 가능합니다.
CIC series uses deposition-type heat exchange method to maximize heat exchange rate and efficiency, controlling coolant temperature. and contributing to precision accuracy. SUS(stainless steel) coil is great in resisting rusting, and CIC series makes it easy to control liquid temperature range whether the machine is lightly or heavily loaded.