고압순환방식의 최소형 오일 쿨러 CIPL Series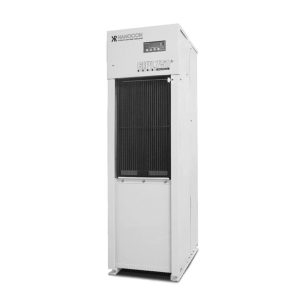 CIPL시리즈는 최저부하시에도±0.1'C의 고 정밀 온도 제어가 가능하며, 0.5 Mpa의 내압에 견딜 수 있도록 설계 되어 교환효율 및 정밀도가 높은 모델입니다. (상용0.3Mpa)타사 대비 점유면적을 최소화하였으며, 쿨런트액을 순환시켜 냉각시키며, 별도의 유체를 수용하는 공간이 없는 경우 가장 효율적이고 Compat한 구조입니다. 또한 기계측으로 쿨런트를 공급할수 있는 Pump(옵션) 내장되어 공간절감효과 및 높은 내구성을 자랑 합니다.
The world's smallest high-pressure circulation type cooler. Even when minimally loaded, the CIPL series coolers still allow ±0.1′ C high precision temperature control with 0.5 Mpa internal pressure for higher efficiency and better precision. Conventional models only have 0.3 Mpa internal pressure. Additionally, CIPL coolers operate by chilling coolant liquid during circulation enabling a more compact design. As an option, you can attach a pump to supply coolant to the machine, saving space and enhancing durability.